20 May 2021
A new service of the Ministry of Foreign Affairs "e-Consulate" was presented in Belgrade today, intended for foreign citizens who apply for a visa and aspire to come to Serbia to work.
On that occasion, Minister of Foreign Affairs of the Republic of Serbia Nikola Selakovic said that this service was one of the indicators of good development of our country, which, as he pointed out, was becoming a magnet for serious foreign companies, which brought a large number of workers from other countries to work in Serbia.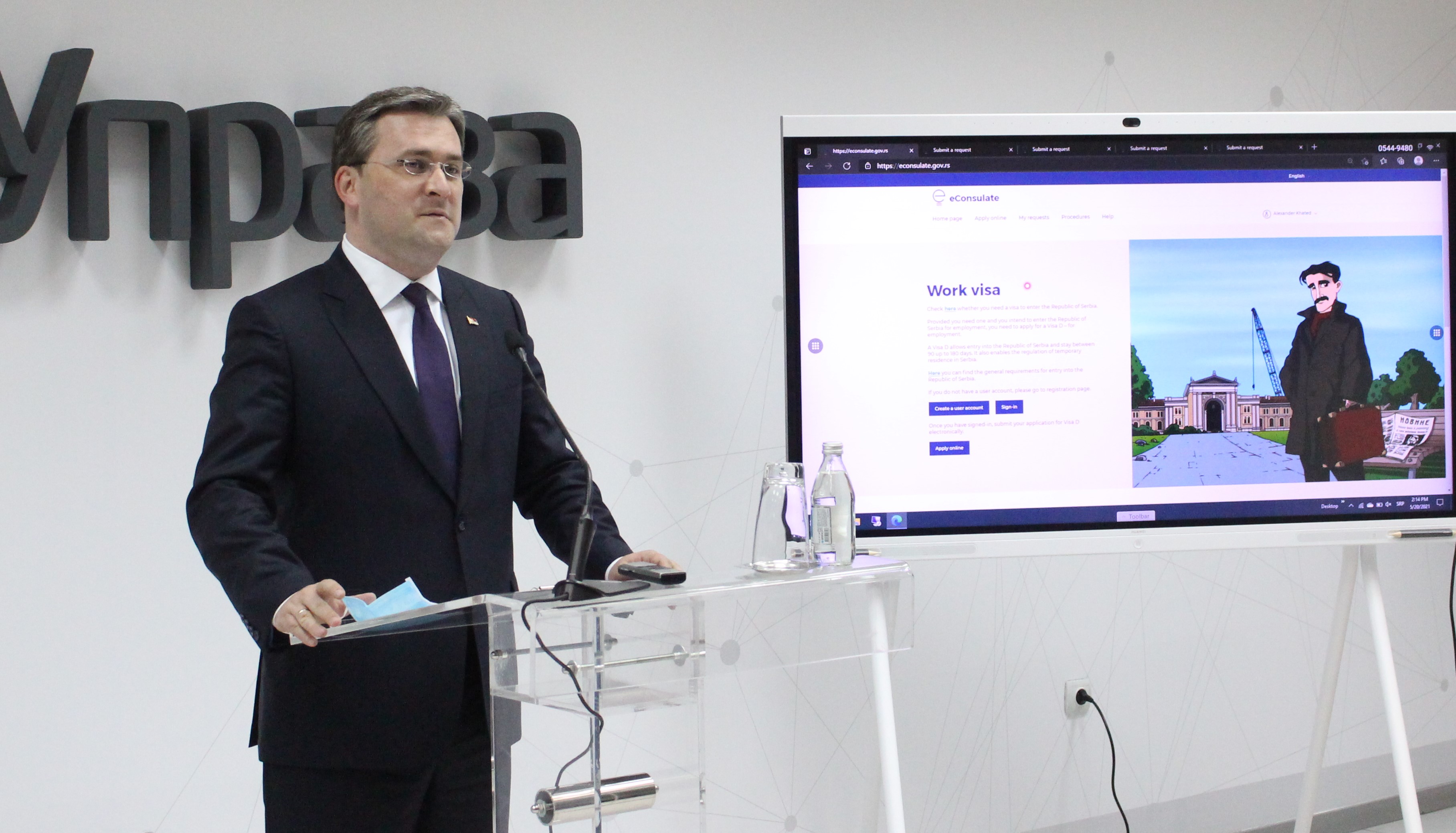 "Not to be pretentious, but completely realistic, this service represents a turning point in the functioning of our system. E-Consulate and digitalization of the procedure for issuing work visas for foreign citizens who want to work in Serbia, is the first electronic service offered by the Foreign Ministry, and I can promise you that this is indeed our first, but by no means the last e-service", Selakovic emphasized.
The Head of Serbian diplomacy pointed out that "e-Consulate" reflected the modernization of an extremely important segment of the activities of diplomatic and consular missions of Serbia, and that we were actually talking about something that was essential for the further development processes of our country.
The Minister recalled that, when the President of the Republic visited the construction site of the Moravian Corridor, he was told that some construction works were delayed because Bechtel company was not issued work visas on time.
"The moment we saw that and heard the President, I alerted the services in the Ministry. We were surprised, as we knew that the issuance of visas in Turkey had a good dynamic, and then we determined that it was actually workers from Bangladesh who applied for a visa through our Embassy in India, where we have a problem with staff shortage", the Minister explained.
As he added, this is a demanding and laborious task, each of our employees had to receive the documentation on paper, check it, then request additional information, and only then forward it.
"Today, this has been fantastically perfected for our consular officers, all that documentation is submitted in electronic form. We used to have two filters to check the documentation, now we actually have three. And the work is significantly more efficient", Selakovic pointed out.
As he emphasized, this is a service which was promised less than four months ago and it becomes available on Monday, in 95 diplomatic and consular missions of Serbia, i.e. in all our embassies and consulates general.
The biggest result of that endeavor, the Minister pointed out, apart from the advantage it would bring in the future work, was the fact that it was not a project of one state body, but a joint endeavor of the Ministry of Foreign Affairs, IT and eGovernment Office, General Secretariat of the Government, Ministry of the Interior, Ministry of Labor, Employment, Veterans and Social Affairs, National Employment Service.
"We did an extremely good job in record time. This is to the pride of our Ministry, to the pride of the entire state. I am convinced that in the period ahead, we will further modernize our affairs and make Serbia one of the few countries that has such mechanisms and such state-of-the-art provision of consular services", Selakovic said.
Speaking about the "e-Consulate" portal itself, the Minister explained that there is a cartoon of Nikola Tesla and the building of the old railway station with one crane, which actually symbolizes a historical fact - that Tesla was in Belgrade in the year when it was built.
"Today it is the place behind which the Belgrade of the future is rising, and what we managed to do together is an indicator of something that is the future of Serbia, the development of artificial intelligence, IT and creating conditions for more people to live and arrive here in Serbia in the future seeking good life and employment", concluded the Minister.
The Director of the Office for IT and eGovernment, Mihailo Jovanovic, said that this was the first time that e-services were focused on foreign citizens, which was the case with our citizens so far.
In the period from 1 January 2019 to 17 May this year, the most applications for Serbian visas were submitted at the Embassy in Beijing, 6,766 applications, then in New Delhi - 2,973, Shanghai 2,115, Tokyo 1,798, and Cairo 1,756.
In that period, 1,270 requests were submitted in Algiers, 1,095 in Jakarta, and 1,077 in Beirut.
In terms of their nationality, Serbian D visa for employment is most requested by citizens of China - 9,516 applications, followed by India 1,955, and Ukraine - 673.